Sunday, May 10, 2020
You're not heading to the pub anytime soon. I understand. But ho-ho fear not, dear readers, for I have a near perfect solution. I'm bringing the chat directly to you. Now you can enjoy our virtual pub discussion right in your own home. It'll be like you're really there. So, go grab the beverage of your choice from the fridge, pull out a packet of Smokey Bacon Taytos and hoist up your legs on your favorite recliner. (Note: I am not responsible for any lost time in the reading of this column. I cannot reimburse wages if consumed while you're supposed to be working, nor does it offer refunds of any kind, especially for you Larry, so don't even try.)
CM: Cheers. Anyone sitting here?
Regular Patron: Doesn't look like it.
CM (with a nod to the bartender and a raised index finger): Pint of Guinness, please.
Bartender: Righto.
The speakers behind the bar are softly discharging a glossy pop band inappropriate for the age group gathered at the establishment and yet no one seems to care. Yes, it's wonderful to be in Ireland.
CM (to the regular patron): What do you recommend for a bite?
RP: An agitated Pitbull usually does the trick.
CM: What if I can't find one of those?
RP: Soup's good. Veg today, I think.
Several moments of silence.
Bartender (placing full pint glass in front of CM): Now.
CM: Cheers. Veg soup today, is it?
Bartender: Aye.
CM: Could I grab one of those as well?
Bartender: No bother. (Retreats)
Patron at the wall under a newspaper clipping (twisting around on his stool): Ronnie!
RP (spinning on his stool): …
PATWUANC: What's that clown with the teeth again?
RP (Ronnie): Pennywise.
PATWUANC: That's the one. Needs an orthodontist that one. And who's the writer?
RP (Ronnie): Stephen King.
PATWUANC: The very man. (Spins back to face his cohorts)
RP (Ronnie) (turning to face the bar again): Sips from his lager.
CM: Never saw it.
RP (Ronnie): By it, you mean "It?"
CM: I do. Don't really enjoy horror flicks.
RP (Ronnie): Well, your man's just delving into them now. Can't get enough.
CM: Just discovering them, is he? What's his age?
RP (Ronnie): Oh, he's near on eighty now.
CM: And he's into horror movies.
RP (Ronnie): Not for the scare, mind you. For the laughs.
CM: Finds them funny, does he?
RP (Ronnie): Oh, aye. You'll hear him across the room roarin' and laughin', and him recalling something from Netflix last night. "Don't go in the room, ye stupid git!"
CM: Fair play to him.
RP (Ronnie): "They're always splitting up! Why wouldn't they stick together? There's only one of them murderers out there and there's six of them. Sure, they'd all still be kicking if they'd a brain amongst them."
CM: I suppose he's got a point there.
RP (Ronnie): Oh, aye.
CM: And his wife… is she still around?
RP (Ronnie): She is that. She'll outlive us all.
CM: Does she enjoy the movies as well?
RP (Ronnie): Not like your man. They'll put something on, but she'll be reading a book all the while.
CM: Doesn't see the humor in The Texas Chainsaw Massacre.
RP (Ronnie): She lacks vision, no doubt there.
Bartender (placing soup and bread in front of CM): Now.
CM: Thanks. (Sips Guinness and starts the buttering procedure—a process that can take an extended period of time according to some people with knowledge of CM's eating habits.)
RP (Ronnie): That's not looking so bad about now.
CM: It's just what the doctor ordered.
RP (Ronnie): Brian!
Bartender (looks up from wiping a glass)
RP (Ronnie): You wouldn't have a spare bowl of that stuff you've given him?
Bartender (Brian): Just the bit that's fallen on the floor.
RP (Ronnie): Any chance you'd scrape it up and throw it in a pot?
Bartender (Brian): Will do.
CM (carefully opening the foil from a second pat of butter with his knife and eyeing the quickly cooling soup, still annoyed that the butter was refrigerated and tough to spread): C'mon yiz.
PATWUANC: Ronnie!
RP (Ronnie) (spinning around on his stool): What is it Patrick?
PATWUANC (Patrick): Come and give us a yarn.
RP (Ronnie): I'm just after ordering some grub.
PATWUANC (Patrick): What'd ye get?
RP (Ronnie): The soup.
PATWUANC (Patrick): It's carrot, is it?
RP (Ronnie): Veg.
PATWUANC (Patrick): Veg, eh? Well, that's a whole different kettle of fish.
RP (Ronnie): That's what I said.
PATWUANC (Patrick): Who's your man up there?
RP (Ronnie): Dunno. (To CM): What do they call you?
CM: Conor.
RP (Ronnie) (to PATWUANC, Patrick): Conor.
PATWUANC (Patrick): How's the soup today, Conor?
CM: Haven't tried it yet. Still slathering on the butter, which is putting up a valiant fight.
PATWUANC (Patrick): Good man. Let us know how you get on.
CM: Nearly there.
PATWUANC (Patrick): Don't hurry it. You're doing the decent thing.
RP (Ronnie): Sure, they've warm butter out back too. Brian'll fetch you some.
CM: That's good news that could've been timelier. The job's nearly done.
Bartender (Brian) (placing soup and bread in front of RP (Ronnie): Now.
RP (Ronnie): Cheers Brian. You wouldn't have a bit of butter at a spreadable temperature for your man here?
Bartender (Brian): Yeah, sure.
CM: I'm all set, last few strokes.
RP (Ronnie): Well, I'll have his then.
Bartender (Brian): Easy enough.
CM: Done (takes a bite of bread and a sip of soup). Oh, that's nice.
RP (Ronnie) (to PATWUANC, Patrick): It's a thumbs up on the soup.
PATWUANC (Patrick): That's me sold. Brian, I'll have a lepping of that as well.
Man across from Patrick: Make that two.
Woman next to man across from Patrick: Three.
Bartender (Brian)
: You've started a movement, Conor. Well done.
Haunted Ireland hotels
Friday, March 13, 2020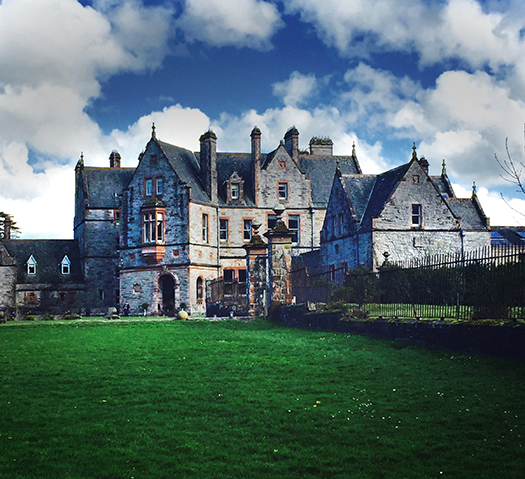 Leslie Castle, above, in Glaslough, County Monaghan.

The haunted bed at Leslie Castle.
I had a friend ask me recently where to send some relatives who were going to be visiting Ireland. He wanted recommendations for a family spanning three generations, some of whom had been over prior, but who were by no means frequent visitors.

It was a hard nut to crack mainly because I didn't know them and hadn't a clue on what they might like to experience. He gave me a generalized itinerary though, that they'd be spending a day in Dublin, then heading south before looping around to the western coast to leave via Shannon Airport.
His request was well timed, because as we head into spring, Ireland will be blooming, flight prices will be edging up, but they won't be at the summer apex.
As far as hitting the Emerald Isle, it obviously depends on who will be going and what they're looking for. I'm generally content either hunting for new food venues or finding a small pub somewhere to while away the hours.
If I'm visiting a country for the first time, I'll likely still want to see sites that the area is renowned for, but that's becoming less and less important to me, especially as those spots are crammed tighter and tighter with other tourists.
Any number of sources will point you to the popular spots in Ireland, so I won't waste your time repeating them. Instead, I'm going to pen the occasional column with a theme. If you ever see one you like, maybe you can grab a few tidbits to help in your planning. I'll start with some of the hotels that are likely to reacquaint you with the hair on the back of your neck…
Haunted Ireland
Renvyle House —Renvyle House Hotel, on the coast of Connemara, reminds me of an old hunting lodge. None other than William Butler Yeats is reputed to haunt this place, along with a few other scarier apparitions. He held seances there with attendees such as Lady Gregory, James Joyce, Augustus John and Oliver St. John Gogarty. Nowadays there are separate lodges for the more timid, but the main hotel has the ghosts. (It's been called the most haunted place in Ireland). The main building has been rebuilt and burned down and rebuilt again. Note that it's a great base if you're interested in hiking around the Connemara Mountains.
During a haunted tour I helped to host more than twenty years ago, two separate guests reported that someone sat on their bed in the middle of the night at the same time… in two separate rooms. One of them slept in the hallway too frightened to return to her bed.
A quick rundown: Room twenty-four reputedly has had constant reports of footsteps; Yeats' wife apparently saw a ghostly face at the window of her room; a housekeeper once saw a man entering room four, which was supposed to be vacant. When she opened the door to inform him he had the wrong room, it was empty. The poor woman eventually suffered a nervous breakdown. Another housemaid witnessed a man disappear from the ground up in one of the corridors.
Suite eighteen is possibly the most haunted room. Guests often complain that there is a non-human "something" in it. While applying makeup, one woman reported seeing a man in the mirror staring over her shoulder. A dozen or so other women without prior knowledge of the hauntings, have claimed the same thing. A manager asked a priest to say a mass in the room to try to fix things, but word has it that a thunderstorm occurred and ended the mass abruptly. A couple once complained about a loud clinking sound coming from as close as their pillows. Rumor has it that this room was the site where a twelve-year-old boy hanged himself in the fireplace and a man strangled himself.
As a final note, I'll add that one night at the hotel, I was sure I left my wallet on the top left corner of the television, but by the morning, it was in the middle of it.
Leslie Castle — As far as manor houses, an argument could be made that Leslie Castle in Glaslough, Monaghan is the most haunted in Ireland. Like Renvyle, it is also a hotel with servants' quarters and a portion of the village converted into splendid rooms and rental homes. I received a tour of the castle by none other than Sir John Leslie (then in his late eighties) in the late 1990s and, while helping to host a succeeding tour, was treated to a haunted dinner by his niece in the castle's grand dining room, where she recanted stories from around the grounds.
Sir John's father, Sir Shane Leslie, was visited one night by his deceased Uncle Moreton; visitors have been known to levitate in what is known as the "haunted bed," where a child was once reportedly murdered.
In 1995, a group of fifteen visitors all witnessed a ghostly coachman. He vanished, but they were each able to describe him in detail down to his shiny brass buttons.
Don't be surprised if there's a wedding on the grounds. It is, after all, where Paul McCartney was married in 2002.
Cashel Palace — If you're visiting the Rock of Cashel, one of Ireland's most popular sites, perhaps you'd like to try out the Cashel Palace Hotel in the center of town. When five-thousand of Oliver Cromwell's soldiers sacked Cashel in 1647, they reputedly murdered a one-hundred-year old monk, who put a curse on Murrough O'Brien, the Earl of Inchiquin, the leader of the attack. The monk proclaimed, "You will come back as a hound of hell."
Since then, a large black dog haunts the town. Indeed, the dog and a couple from the early twentieth-century are reputed to roam the halls of the hotel. In 1997, a Japanese businessman claimed that a young woman in Tudor dressing appeared before him. She touched his left arm and the spot it touched felt freezingly cold. The man shivered for some time after the woman had vanished.
The hotel is currently closed, but is slated to reopen in mid 2020 after renovations.