Sunday, January 17, 2021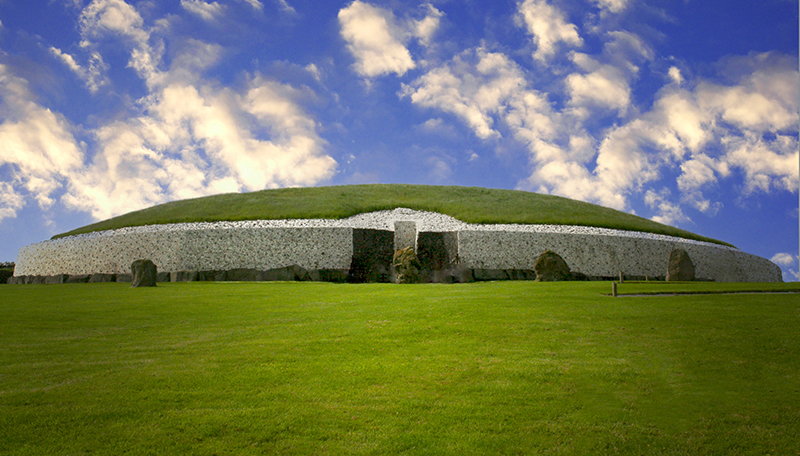 My father never forced anything down our throats, but if there was one thing that came close, it was the importance of an ancient mound of stone and earth in the Boyne Valley known as Newgrange. He used to bring the family to experience it starting in the 1980s.

Back then, we could just drive up to the base of the hill, walk past the unmanned booth where someone should have been selling tickets and explore. There was often no one else there, though occasionally we'd run across someone the old man inevitably knew.

Many Ohio Irish American News readers will already know about Newgrange and will have their own stories about it, but I would be remiss in my son duties if I didn't at least dedicate one column to it.

What the heck is it?

Newgrange was built by stone-age farmers 5,200 years ago, making it older than the Great Pyramids of Giza and Stonehenge. In fact, there wasn't much that boiled my father's bottom more than the international press swooning over the 100 stones in Wiltshire while simultaneously ignoring the gem of the Boyne Valley. But, I digress.

Located in Meath, just west of Drogheda in County Louth, the circular mound is 279 feet in diameter and 43 feet high and archaeologists somewhat agree that it was a passage tomb and ancient temple. There is a sixty-two-foot entrance passageway (at times tight) that leads into the main chamber, with three alcoves. Above your head, you'll find a corbelled roof that hasn't leaked in its more than 5,000-year history. Let's see your modern roofer offer that kind of guarantee.

Surrounding the whole affair are ninety-seven large kerbstones, some of which are engraved with megalithic art, the most prevalent being its entrance stone with the famed triple spirals adorning it.

But the most striking feature about Newgrange comes in the form of a roof-box at its entrance. For five days around the winter solstice, the morning sun shines through the opening, glides up the passageway and illuminates the inside of the chamber. Now when I say morning sun, I'll add that this jumble of rocks is in Ireland, so morning clouds are more often the case, but you can't blame the old farmers for trying. The solstice would have marked the beginning of a new year, which is quite the impressive feat when you figure they needed to know the seasons and the position of the sun and all of that malarkey.

The folks in charge have a handy light bulb that shines into the dark confines of the main chamber (the builders weren't big on windows other than the roof-box) which gives visitors an idea of what the solstice would look like inside. They shut off the original electric lighting from 3,200 B.C. for complete darkness before flipping on the artificial sun (also original, I believe). For those of you with claustrophobia, you might want to skip this bit on the tour.

My cousin, Peter, surprised my father one time by securing him a spot on one of the coveted winter solstice tours, usually reserved for muckity-mucks, princes, sheiks and the like. The sun did indeed make the rarest of showings on that fateful day, allowing an Irish Times photographer to capture the sunlight shining off the red hair of a young girl for the paper's all-time best-selling photograph. In subsequent years, my father called it the single greatest moment of his life, even after I reminded him that he had children.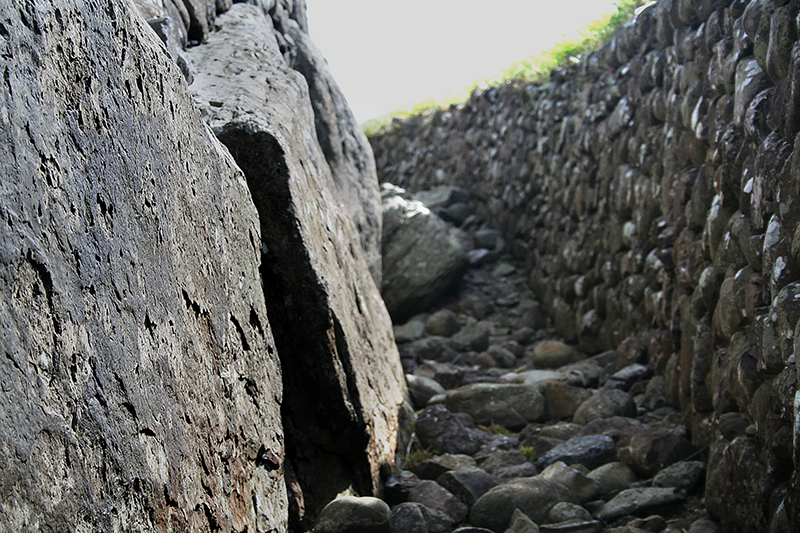 Too big for its britches
Alas, like all good things, people eventually found out about Newgrange. One time while bringing a friend to visit the old stomping grounds, I wasn't able to locate it. The road I used to take simply wasn't there. Come to find out, they no longer wanted people just showing up and walking in. There was a spanking new visitor center located a hop, skip and a jump away where patrons were corralled into groups and herded one small bus at a time to the site. I suppose it was all for the best.

The center is a wonderful spot for discovering the history of Newgrange, as well as nearby Knowth and Dowth (two other massively important Neolithic sites in the Brú na Bóinne complex). And if you're being dragged around because you couldn't care less about ancient history, there's a handy café with hot soup, sandwiches, tea and biscuits. Of course, all of this is closed due to a global pandemic, but you'll know about it for later.

It looks in great shape
I'm sure you're pondering by now that the picture indicates the joint hasn't aged a day. How's that possible? Well, the site was sealed up after its initial use and time did indeed take its toll on the place. Those beautiful quartz stones lining the front of the façade tumbled to the ground and Mother Nature slowly took over. Eventually it just resembled a mound of earth.

It sat undisturbed until 1699 when landowner Charles Campbell sent some of his laborers out to dig parts of it up looking for stone. They realized it wasn't just a dirt mound, and archaeologists have been interested ever since. There was even word that skeletons were found inside the alcoves off the main chamber, causing some to speculate that it might have been where they brought their dead to make the trip to the afterlife. This matched up quite well with the birth of a new year at the winter solstice.

In the 1970s, Newgrange was restored to how they presumed it looked 5,200 years ago, including the quartz stones in the front. They also added stairs to get around the giant stones in front, as originally one would have had to climb over them to gain access.

So, there you have it. One of the most important archaeological discoveries in the world, a UNESCO World Heritage Site, located just a couple miles from Our Lady of Lourdes Hospital, in Drogheda, where a certain OhioIANews columnist was born. Makes you think that Stonehenge might be the "jumped the shark episode" of neolithic sites, doesn't it?

Visit www.newgrange.com for more information.
Haunted Ireland hotels
Friday, March 13, 2020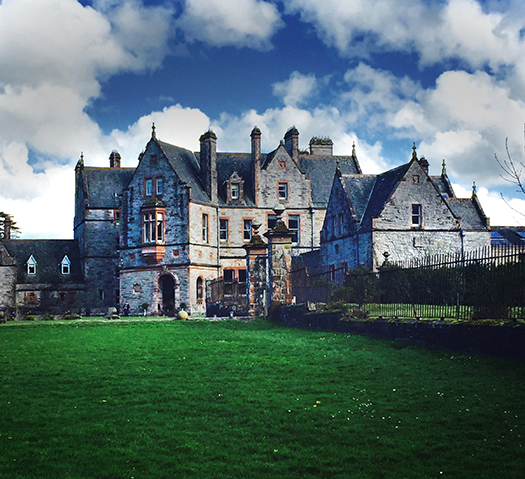 Leslie Castle, above, in Glaslough, County Monaghan.

The haunted bed at Leslie Castle.
I had a friend ask me recently where to send some relatives who were going to be visiting Ireland. He wanted recommendations for a family spanning three generations, some of whom had been over prior, but who were by no means frequent visitors.

It was a hard nut to crack mainly because I didn't know them and hadn't a clue on what they might like to experience. He gave me a generalized itinerary though, that they'd be spending a day in Dublin, then heading south before looping around to the western coast to leave via Shannon Airport.
His request was well timed, because as we head into spring, Ireland will be blooming, flight prices will be edging up, but they won't be at the summer apex.
As far as hitting the Emerald Isle, it obviously depends on who will be going and what they're looking for. I'm generally content either hunting for new food venues or finding a small pub somewhere to while away the hours.
If I'm visiting a country for the first time, I'll likely still want to see sites that the area is renowned for, but that's becoming less and less important to me, especially as those spots are crammed tighter and tighter with other tourists.
Any number of sources will point you to the popular spots in Ireland, so I won't waste your time repeating them. Instead, I'm going to pen the occasional column with a theme. If you ever see one you like, maybe you can grab a few tidbits to help in your planning. I'll start with some of the hotels that are likely to reacquaint you with the hair on the back of your neck…
Haunted Ireland
Renvyle House —Renvyle House Hotel, on the coast of Connemara, reminds me of an old hunting lodge. None other than William Butler Yeats is reputed to haunt this place, along with a few other scarier apparitions. He held seances there with attendees such as Lady Gregory, James Joyce, Augustus John and Oliver St. John Gogarty. Nowadays there are separate lodges for the more timid, but the main hotel has the ghosts. (It's been called the most haunted place in Ireland). The main building has been rebuilt and burned down and rebuilt again. Note that it's a great base if you're interested in hiking around the Connemara Mountains.
During a haunted tour I helped to host more than twenty years ago, two separate guests reported that someone sat on their bed in the middle of the night at the same time… in two separate rooms. One of them slept in the hallway too frightened to return to her bed.
A quick rundown: Room twenty-four reputedly has had constant reports of footsteps; Yeats' wife apparently saw a ghostly face at the window of her room; a housekeeper once saw a man entering room four, which was supposed to be vacant. When she opened the door to inform him he had the wrong room, it was empty. The poor woman eventually suffered a nervous breakdown. Another housemaid witnessed a man disappear from the ground up in one of the corridors.
Suite eighteen is possibly the most haunted room. Guests often complain that there is a non-human "something" in it. While applying makeup, one woman reported seeing a man in the mirror staring over her shoulder. A dozen or so other women without prior knowledge of the hauntings, have claimed the same thing. A manager asked a priest to say a mass in the room to try to fix things, but word has it that a thunderstorm occurred and ended the mass abruptly. A couple once complained about a loud clinking sound coming from as close as their pillows. Rumor has it that this room was the site where a twelve-year-old boy hanged himself in the fireplace and a man strangled himself.
As a final note, I'll add that one night at the hotel, I was sure I left my wallet on the top left corner of the television, but by the morning, it was in the middle of it.
Leslie Castle — As far as manor houses, an argument could be made that Leslie Castle in Glaslough, Monaghan is the most haunted in Ireland. Like Renvyle, it is also a hotel with servants' quarters and a portion of the village converted into splendid rooms and rental homes. I received a tour of the castle by none other than Sir John Leslie (then in his late eighties) in the late 1990s and, while helping to host a succeeding tour, was treated to a haunted dinner by his niece in the castle's grand dining room, where she recanted stories from around the grounds.
Sir John's father, Sir Shane Leslie, was visited one night by his deceased Uncle Moreton; visitors have been known to levitate in what is known as the "haunted bed," where a child was once reportedly murdered.
In 1995, a group of fifteen visitors all witnessed a ghostly coachman. He vanished, but they were each able to describe him in detail down to his shiny brass buttons.
Don't be surprised if there's a wedding on the grounds. It is, after all, where Paul McCartney was married in 2002.
Cashel Palace — If you're visiting the Rock of Cashel, one of Ireland's most popular sites, perhaps you'd like to try out the Cashel Palace Hotel in the center of town. When five-thousand of Oliver Cromwell's soldiers sacked Cashel in 1647, they reputedly murdered a one-hundred-year old monk, who put a curse on Murrough O'Brien, the Earl of Inchiquin, the leader of the attack. The monk proclaimed, "You will come back as a hound of hell."
Since then, a large black dog haunts the town. Indeed, the dog and a couple from the early twentieth-century are reputed to roam the halls of the hotel. In 1997, a Japanese businessman claimed that a young woman in Tudor dressing appeared before him. She touched his left arm and the spot it touched felt freezingly cold. The man shivered for some time after the woman had vanished.
The hotel is currently closed, but is slated to reopen in mid 2020 after renovations.