Sunday, November 27, 2022
Sure, it consistently ranks as one of the happiest countries on the planet, but what does Denmark have that Ireland doesn't? Well, for one thing, they have a royal family, which obviously isn't anything to be envied, but the differences don't stop there, oh no they don't dear reader.
So, having just set foot back home in Amerikay from a quick trip over to the Land of Danes, I will now provide for you a full comparison of the two countries, which I'm sure upon completion of this column you'll agree is both accurate and all-encompassing. This won't be pretty. You should be prepared to roll around in the mud with this article, but in the end, I think you'll walk away wiser.

Chocolate bars: Advantage Ireland.
Let's jump into the meat of the debate, shall we? One of my guilty pleasures when visiting a country for the first time is delving into their junk food. That's a huge part of the culture, isn't it, the potato crisps and choco bars? I'm going to come clean and admit that I don't speak Danish and, if you've tried to learn it, you'll understand why I stopped trying. It's a tongue twister (much like Irish) with words that are pronounced very differently from how they're spelled (much like Irish). The best I could do was to visit the Irma shop and look for the good stuff.
On my first attempt, I settled on the Tyrkish Peber and the Pepe XXL. Both looked like respectable chocolate bars, the Tyrkish Peber with illustrations of flames coming out of the chocolate, which was intriguing. Upon returning to the hotel room, I ripped open the new delectables and chomped down on licorice…not chocolate.
Good people, I ask you, what nation of happy people disguise their licorice as chocolate and claim to still be happy? Their version of the Rolo was admirable, but the licorice was beyond the beyond.
Potato chips: Advantage Ireland.
On that first fateful trip, I also purchased a bag of Iberian ham potato crisps. Not so bad, I didn't think. Quite like kettle cooked chips and certainly reminiscent of Iberian ham, I was content. Was I content enough to eschew my Tayto Cheese and Onion? Not on your life.
Bicycles: Advantage Denmark.
Next, we move to environmental issues. I was pleasantly surprised to see a complete void of plastic utensils. From the street vendors to the food markets, wooden spoons and forks abound. Likewise, the nation is awash in bicycles. At any Copenhagen stoplight, you're likely to see as many or more bicycles as motorized vehicles. Ireland has bikes, but Denmark is bicycle Utopia.
Pastries: Advantage Denmark.
This one's almost a no-brainer. Ireland has some lovely pastries. I mean, is there a person on the planet who doesn't love sinking their teeth into shortbread biscuits? But, good people, consider the Danish. The danged word is synonymous with the country. They don't call them Danish in Denmark, they call them pastries. And they're goooood.
Tea: Advantage Ireland.
Denmark is not the black hole of easily accessible good tea like the United States, but a plain old cuppa does not grow on trees, like it does in Erin. Nose in the uppity direction.
Background music: Advantage Denmark
Let's face it, we've all been there. You stop into a quiet little pub in a quaint Irish village and as soon as you're settled, you realize that the music over the background speakers was selected by a twelve-year-old. It's a phenomenon that to this day I can't explain. Ireland is home to some of the best music the planet has ever known and yet, if you were to visit just about any public place in the country, you wouldn't know it. It's like businesses have decided that bubblegum pop is the only option, that adults don't care about music, so let's just please the wee ones.
Denmark had some of that, but on a whole, when you enter an establishment, you feel like there's an adult in charge of the music.
Castles run by fictitious Danish Kings: Advantage Denmark.
We visited Kronborg Castle (aka Hamlet's Castle) in Elsinore, Denmark. There's really no competition on this one. I don't think Ireland even has one of these.
Border Crossings: Advantage Denmark.
While I'll admit that crossing between Monaghan, in the Republic and Keady, Co. Armagh, in the North, via the now derelict British Army barracks is a tonic, the five-mile train bridge between Copenhagen and Malmö, Sweden, spanning the sea edges out the competition. Bravo Nordic countries. Bravo.
Pedestrian Shopping Streets: Draw.
It's pretty darned difficult to top Grafton Street for pedestrian-friendly shops and restaurants, but the Strøget in Copenhagen's historic district, will reel you in with its equally car-free and mobbed walkways. There's just no clear winner.
Happiness: Advantage Denmark.
Alas, this one wasn't up to me. Ireland ranks pretty high on happiness rankings based on any number of criteria, but the Danish are consistently among the happiest people in the world. Maybe it's the Irish tendency to center life around alcohol, or their choice of pop music in public places…or perhaps it's the preponderance of bicycles keeping people active and fit in Denmark, but whatever it is, kudos to them.
Flights: Advantage Ireland.
Our direct flight from Boston to Copenhagen was cancelled an hour before we were set to take off. And since we didn't want to be saddled with a case of Coronavirus as we began our week in Denmark, we donned masks for the journey. The airline, through much confusion and consternation (and much is not a strong enough word) booked us on another airline through Portugal and onto Copenhagen twelve hours later than we had planned, thus essentially cutting a day off of our holiday. I'll add that we were wearing masks for twenty-four hours. With the caveat that Aer Lingus brings us into Dublin from Boston at an ungodly early hour, they've never cancelled a flight on me.
Irish Pubs: Advantage Ireland.
There were an unusually high number of Iris pubs in Copenhagen, but let's be honest. There are more in Ireland.
Danny Kaye Songs: Advantage Denmark.
For weeks leading up to our Danish trip—nearly on a daily basis—the old Danny Kaye standard "Wonderful Copenhagen" was rattling around my brain. It continued through our stay and even for days after returning. I'll admit that no Danny Kaye song has done that to me any time I've spent in Ireland. Who knew?
And there you have it, a complete and unvarnished comparison between Ireland and Denmark the likes of which you're not likely to find in any periodical outside of iIrish. Put it another way, Denmark is well worth a visit.
Ok, I'll concede that Denmark has better castles run by fictitious Danish kings than does Ireland.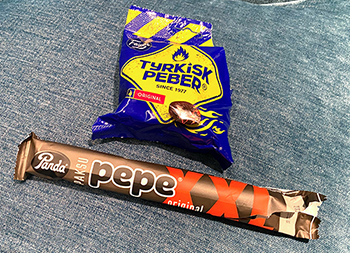 Be forewarned. Neither of these is chocolate.
Cruises: The good, the bad and the 'rona
Monday, February 28, 2022
Be prepared to do a little walking. You'll find the best anywhere has to offer will be found when your feet are on the ground.

As I start this column, the snow outside my window is falling at a rate of three inches an hour. So, I do what any sane person does: I curse myself for living in New England and let my mind wander back to memories of cruising around tropical islands and sipping on margaritas by the pool in the shade under a blistering sun.
The truth is that I have a love-hate relationship when it comes to cruises, but more on that later. First, we need to deal with the elephant in the room.
The 'rona
Is it safe to cruise? According to the Centers for Disease Control, the answer is no (though they did recently lower their risk to level 3). They recommend that everyone should avoid cruise travel, even if vaccinated and boosted, because of the Coronavirus. Cruises are hotbeds of virus outbreaks even during normal times.
In their defense, cruise lines seem to be doing everything they can to make things safe. Almost all are requiring people over a certain age to be vaccinated and they all require a negative Covid test from everyone prior to boarding. Unfortunately, you'll need to check with your chosen line before booking, because some are allowing exceptions. I've also read about some passengers ignoring the mask policies, so be forewarned. And, of course, make your decision based upon your risk and the risk for anyone you come in contact with.
Note that if you have been exempted from receiving a vaccine, countries often will not allow you in unless you are on a cruise ship specific tour bubble. There is also often a travel insurance requirement if you are unvaccinated. In fact, I'd recommend travel insurance for any cruise-goer nowadays. If there's ever been a time it's needed, that time is now.
Keep in mind, there is a lot of close contact on board cruises, but how stuffed the ship is depends on the cruise line. A line like Carnival Cruises tends to focus on keeping it economical, so they try to fit in more passengers, whereas companies like Crystal and Celebrity are less crowded, but are also generally more expensive. And as the price goes up, so too oftentimes does the average age. In other words, if you want a party, a cheaper line might be perfect for you, but if you want a relaxing vacation, you might need to spend a little more.
The good
My top suggestion would be to spend the extra money and get a room with a veranda. One of my favorite times in life is sitting on my private deck before bed, a glass of wine in hand, the starry sky glimmering above and the open ocean coursing by. Obviously, it will cost more, but you won't remember that a few years down the road while reliving your cruise.
Possibly the most incredible part of cruising is waking up every day in a new port. The Caribbean, for example, is filled with island countries and territories. One day you're dining in the Cayman Islands and the next snorkeling in Belize. No new hotel to book into. You just bring your key card with you and it gets you into the country and back on the ship.
Make sure to take a walk around (always research the safety of the area), stop into a pub or restaurant, but get away from the port. There is often real life just beyond the closest proximity to your ship.
It's as good a time as any to point out that your room card is absolutely everything. It's your charge card onboard and generally your passport as well (the line will, of course, require a passport before boarding you onto an international cruise, but you can put it away afterward).
Convenience is a pretty big selling point too. There is almost always food and drink available. Even after all of the restaurants and bars close up, you can order room service. Most of the food is free and easily accessible. Sitting by the pool? Take a few steps over to the burger or taco bar and nosh away. Feel like making it an extra special night? Many cruises offer more upscale restaurants where you'll find gourmet selections at a much cheaper cost than you'd find on land. It might be $15 to upgrade to a steakhouse restaurant over the free fare and it is really good.
The bad
During these dark Covid times, you'll need to be prepared for the possibility that there'll be an outbreak on the ship and in such a case, an island or country is unlikely to let the ship disembark passengers.
Also, you're going to need to prepare to part with some Benjamins. You can do this whole cruising thing for the cost of getting there and the cruise, but be prepared to spend more otherwise it won't be that experience you're hoping for. Just about everything costs more money. "Free drinks" might just include coffee, water and unsweetened tea, not soft drinks and most certainly not alcohol.
Do you want to go see that Mayan temple? You can make your way there on your own (cheapest), you can look for an excursion company not affiliated with the cruise line (cheaper than the cruise's, but it can be a crap shoot), or you can pony up and be just about guaranteed a good tour with the ship's (most expensive).
To be sure, the surprise bill you will inevitably rack up during your vacation is always a hoot (insert bulging eyes here) when you see it at the end of the week.
I'm going to put entertainment pretty high up on the list of things I don't like on cruises. I've probably been on seven or eight cruises, but the entertainment can be quite plastic, glossy and stiff, especially for the big productions, which have reminded me of cheap Vegas drivel. Though I'm admittedly not saying this is always the case. A little research will help here. Smaller piano bars and poolside island-style music can also be exceptions, and you might well luck out with particularly personable musicians and singers.
While one of the truly amazing experiences is stepping off the ship and into a new land, there is many a port not near anything resembling a vacation, I'm talking a working port, where containers are being loaded and unloaded. Any town is miles away. This means paying for a cab there and back.
Interested?
There are Irish themed cruises depending on your musical taste and while I dissed the cruise lines' entertainment, these ones are exempt. Joanie Madden is offering a Mediterranean cruise filled with trad and folk music in September (www.joaniemaddencruise.com); Debbie Casey is bringing folks around the Mediterranean on her folk music cruise (www.irishmusiccruises.com); and Gertrude Byrne, who features a show band-style lineup, has already sailed for 2022, but better luck next year (www.gertrudebyrnepromotions.com).
Are the palm trees calling you during these cold months? Perhaps Hawaii is in your future.