Saturday, July 15, 2023
"There isn't a tree to hang a man, water to drown a man, nor soil to bury a man," said one of Oliver Cromwell's generals. And while I couldn't give a flying fig what any of those sociopaths thought, the quote did enter my mind as we drove through our first early hours in Iceland, the sun melting the frost off the black, volcanic rock covering as far as the eye could see—rock, as it happens, that had been strewn by forces down deep and not all that long ago.

It was like Frodo and Samwise Gamgee setting sights on Mordor for the first time, pondering if they might ever see the shire again or partake in a drink that comes in pints. In fact, I recall wanting to film a little humorous video on our phones with me as the somewhat portly sidekick to the hero of the story, ready to ferry him on my shoulders into the dreaded mountain, but the other half was quite tired and not in the mood for antics of any sort.
What, in the name of all that's holy am I talking about? Well, as it turns out, we traveled to Iceland—the land of fire and ice—to see what it was all about. And we were not disappointed. When we landed, there wasn't a wisp of light, it being the end of April. We landed somewhere in the region of 6 a.m. and it wouldn't be long before the sun began to show itself. Iceland, you'll find out, either sees a lot of dark or a lot of light. We were on the light side.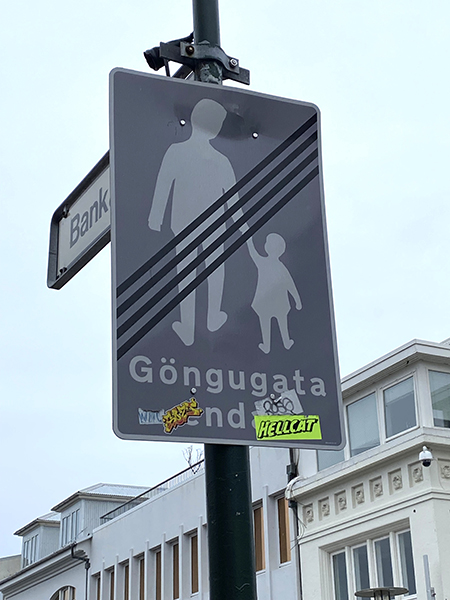 Do not mess with these people. I'm pretty sure this sign is instructing Reykjavic motorists to drive over families.
So, what was it like? What if I told you that I had the best ramen noodles of my life, felt the heat of molten lava filling up the room and sat in freezing temperatures inside natural hot spring pools by the ocean, watching birds play on the stones, the stark mountains in the distance? In a word, it was magical.
The other half and I decided that it was high time we eschewed our usual travels of shopping, eating and drinking and branch out to something more earthy, a place where we could be at one with nature, so to speak.
Our first stop, in the wee hours was the "Bridge Between Continents," where North America meets Europe. You can stand with one foot on each continent and momentarily become king of the world (or something similar). This, I might add, was the height of Mordor, for all of you Hobbit fans.
The country was dealt a devastating blow after a volcano erupted in 2010. You might remember it. Airports around the world shut down due to ashen clouds and the economy of Iceland was in free fall. The country took on a new strategy. They tried to lure tourists with the promise of living the outdoor life and as you might have discerned, their gamble paid off. Iceland has become a huge tourist destination.
The citizens are openly appreciative, with one hotel employee in Reykjavik telling an apologetic tourist such as myself that we saved their country. What a lovely take on the situation thought I.
Iceland is teeming with waterfalls. We happened upon this one, Skógafoss, between Reykjavic and Vik.
For those of us of Irish descent, I need to make a caveat. Iceland, although it sounds an awful lot like Ireland, is most definitely not Ireland. Expect very few corner pubs. And if you're a drinker, plan accordingly. We stayed in the picturesque town of Vik for several days and assumed that alcohol would flow as it does in most of Europe. It most certainly doesn't. (Hint: Stock up at the airport.)
We purchased a bottle of wine at the local grocery and when we returned to our most decidedly beautiful hotel room afterwards, we were beguiled to discover how much it tasted like grape juice. The reason it tasted like grape juice is that it was grape juice. Upon further examination, we realized that there were no alcohol sales in town until Tuesday (it was Saturday) unless we wanted to make a 60-mile jaunt to a "nearby" shop. But that's neither here nor there.
Vik lies beneath a glacier, which provides much splendor, but all that frozen water comes with a catch. When the volcano underneath said ice erupted in 1918, the majority of fatalities actually came from the rushing waters of the melted glacier and not the lava.
That gruesomeness aside, we enjoyed a lava show in Vik, which is highly recommended. The company name is a bit hard to remember…what was it again? Oh yes, Lava Show. They heat actual lava rock to 1,100 degrees Fahrenheit, then slowly ooze the lava into a darkened room of spectators, heating the vicinity up considerably. The affable representative noted that if the volcano were to erupt, all of our mobile phones would alert us to the quite unsettling fact that we had a half hour to get to higher ground. Ha ha, thought I. Wonderful stuff.
From Vik, we headed north to Geysir, where erupting waters awaited. Once again, you can imagine a Tolkien-like landscape with waters boiling on the ground and geysers erupting every few minutes. I could finish an entire column on this area, but space is short and suffice it to say, Mother Nature is awesome.
On our way out of Geysir, we stopped at Hvammsvík Hot Springs, a set of naturally heated pools, lying on the beach, overlooking the Atlantic Ocean. What a gem. After a freezing jaunt from the shower areas to the outside pools, visitors can submerge in one of eight open-air pools, the mountains and ocean offering a backdrop, and in our case, only four other people to contend with. Pure heaven. (And quite a bit less touristed than the infamous Blue Lagoon.)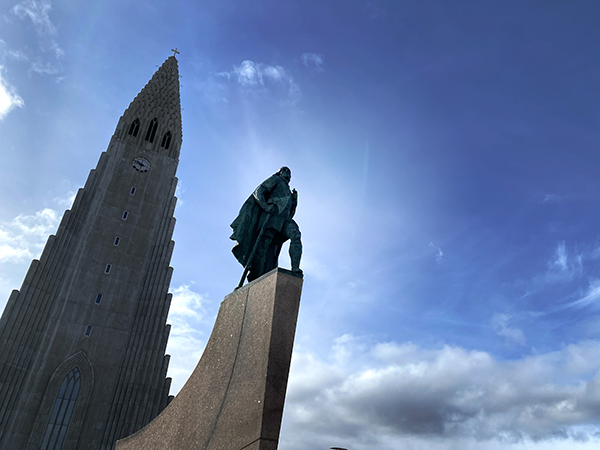 My man, Leif Erikson looking ever forward.
From there, we made straight away for the capital city of Reykjavik, with its hot dog stands and Leif Erikson statues. It's quite a small city, but we tourists were more than happy to fill in the empty spaces. Should you try the hot dog stands? Yes. Should you visit Ramen Momo? Most definitely. Are waterfalls as common as traffic jams in the States? They certainly are.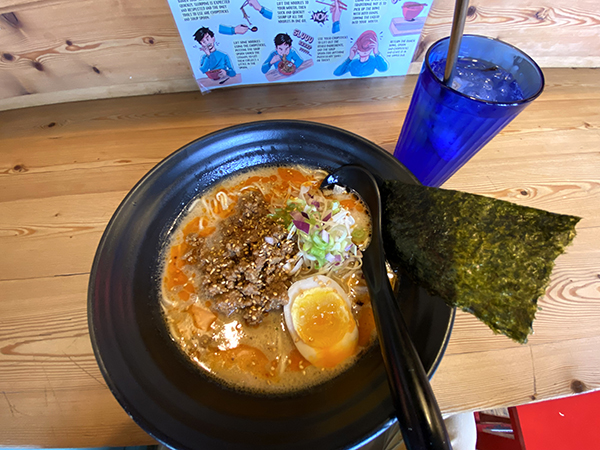 A serving of Tantanmen from Ramen Momo in Reykjavic. This was a bowl of pure gastronomical joy.
But once again, my space here is limited. How is visiting Iceland even realistic, you ask, when Ireland awaits with all of its charm? As it happens, Icelandair allows travelers to stopover anywhere from one to seven days if they're continuing on to Europe—for free. So you can book a flight to Dublin on the airline and choose to stop for a few days in the land of fire and ice.
What's the downside? I don't have an answer for that one.

A user's guide to sessions
Saturday, September 10, 2022
Every once in a while, I like to refrain from my usual stream of consciousness and throw down a few words that some people might actually find useful.
And ho-ho dear reader, we've reached that time. If you've ever been intimidated by, nonplussed or generally curious about sessions, it's time to strap the seat belts onto your eyes, because I'm about to take them for a convoluted ride down Music Boulevard.
I'll start with the most basic. A session—which in Irish is spelled seisiún—is a group of people playing instruments and/or singing in an informal setting. As you're reading an Irish periodical, I don't suspect I need to go any farther here.
Next, I'll break down sessions into two camps: instrumental and vocal. A lot of people refer to instrumental gatherings as trad sessions, a term I don't use because it seems to indicate that singing isn't traditional, which it most certainly is. Likewise, some singing sessions are called pub song sessions, and I'm not a fan of that as I feel it minimizes the importance of songs in Irish culture.
And before I start to get hate mail about traditional singing being limited to sean-nós, I'll just mention that nobody in Ireland had ever heard of a bouzouki until the latter half of the twentieth century. It's folk music. It changes. If there were guitars around in Ireland in the nineteenth century, they would have been utilized (and no, not for kindling, so stuff it).
There is also a rare form of session that combines equal amounts of both instrumental and vocal, and these are personally my favorite. These are sessions where both camps respect the other, where the rhythm instruments know how to back up the tunes and the instrumentalists can back up the songs. I'll point out here that backing up songs is an artform to itself. Playing the tune behind the lyrics isn't the same as complementing the song.
Unfortunately, this type of session is usually not the case. Singers tend to think of tune players as diddley-dee boring and finger-in-the-ear arrogant, and tune players can look down on folksingers as being ignorant of Irish culture and lacking musical talent. In my opinion, both are right and wrong and can blind either side to the benefit of the other.
You're probably going to want to visit your local session before joining it to scope out the feel. Every session has its own personality. Are they more advanced players than you, and if so do they seem accepting of learners? There might be hierarchies or accepted rules. Instrumental sessions tend to be free-for-alls, where anyone in the circle starts a tune, whereas oftentimes a singing session will go around in a circle with the next person encouraged to perform. (This isn't always the case, and if it isn't, take a tip and don't become a spotlight hog. It's good to have a little while between bursts to allow for some shyer participants to perform. Just because there's a lull doesn't mean you're required to fill it.)
Take note of the tunes and songs performed. There are some standards that everyone will know and some that will be more popular at your local session. You can always work on them back at home and come in more prepared when you first attend.
Introduce yourself to some of the session-goers at the end or if they're grabbing a pint. I find they're a lot less intimidating when you talk to them rather than watching them play with dour faces aimed at the floor. They'll usually be honest as well about how accepting the group will be to learners. Be forewarned, there can be open hostility to a novice inserting him or herself into a session of seasoned players. Not so much for the singing sessions.
I find there are three basic levels of tune players: the novice, who is intimidated by everyone, the amateur, who is superior to everyone, and the pro, who is supportive of everyone. (This obviously isn't always the case. There are a lot of amateurs who are enthusiastic about newbies and there are jackass pros, but these are tendencies I've noticed.)


Some insights for newcomers
In general, when a song or a set of tunes ends, everyone takes a drink.
During tune sessions, when the singer starts, the players use the opportunity to grab a pint or hit the loo. Don't take it personally (except in some cases, do).
A fiddle is the same thing as a violin, but generally, someone playing classical music refers to it as a violin and someone playing Irish music calls it a fiddle.
Uilleann pipes are the complicated-looking bagpipes that are played sitting down. When you refer to them, forget the "U" at the beginning. They're illin, like you're chillin'. Likewise, don't pronounce the "D" in bodhrán (the Irish drum).
There were years where eyes would roll when someone brought a guitar into a tune session. Along with the bodhrán, it was seen as pedestrian, played by someone less than a trad musician. In my opinion, a man named John Doyle changed that, so guitars are welcome once again (insert rejoicing sounds).
If you're a singer, you don't need to use all of the thirty verses ever written for a song. It's admirable that you researched it, but it gets a bit tedious.
Poems and stories are underutilized in sessions. I wish that would change.
You don't need to preface every song with its history or significance. Just sing the song. It should usually speak for itself.
Lulls aren't the enemy. You don't need to jump in every time there are two consecutive seconds without music. Give someone else a chance.
Sessions are often the best when they're not too planned.
Hosting a session at your home? The higher the player to listener ratio, the better. A party that includes a session is not a session. It's a performance.
Check out the internet for common tunes and songs. There are a lot of them. Also, get the flavor of the session. Some might include old Americana music or bluegrass. Some might welcome music that doesn't fit the mold, but some won't.
And finally, for the love of all that is holy, it's music. It's supposed to be enjoyable. Those with an attitude are wrong. Those trying to enjoy music are right. Anyway, that's just my opinion.